A while back I discussed some parenting plans that came back to bite me in the end. This time, I'm writing up the results about the time I planned nothing. Just to see what would happen if I planned absolutely nothing.
Background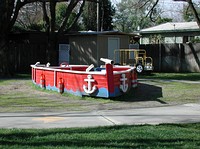 Both of our kids went to the
Davis Parent Nursery School (DPNS), which is an amazing preschool here in Davis. One of the responsibilities of being a parent of a child attending DPNS is that you have attend a certain number of "educational seminars" (which are usually worth the time even though you dread going).
One such seminar professed the benefits of letting your children control the schedule sometimes. I.E., rather than swimming at 3:30, 4:15 for soccer, followed by a 5:38 dinner you should provide them with a block of time where they got to pick any activity they want. And yes, the parents have to participate too and follow the direction of the child (while still providing the obvious acceptability boundaries).
Background Part 2: Daddy Days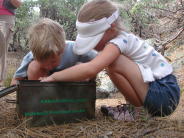 The other regular event in my life at the time was something my kid's had entitled "Daddy Days". My wife was having regular meetings in our home and rather than try and keep my kids from politely, but continually, offering the guests pretend sandwiches and hamburgers from their diner of delectable plastic foods, I opted instead to take them somewhere fun. We'd go to the zoo, or to a science museum, or go geocaching or to the Nimbus Fish Hatchery or whatever I felt like concocting for the day…
On to Doing Nothing
So of course I had to test out the theory that planning nothing was beneficial. I mean, it was a statement by the lecturer with no data or references to back it up. The scientist in me couldn't let it go at that, so I selected a big green area on the map in Sacramento and we headed out. When we got there it turned out to be a big grass field with no playground infrastructure: just soccer fields and a big pond (complete with geese).
So, I turned them loose. "What do you want to do?" I asked realizing
there wasn't much there to choose from. They, undeterred by the lack of brightly colored plastic, picked things like "walk around the pond" and "watch soccer" and "walk over there", … Four hours later after we had walked everywhere, looked at everything, climbed on random objects, spent 30 mind numbing minutes dropping grass down a storm drain and another 30 shouting down one storm drain while someone listened to another I finally uttered words I'd been waiting to say for 3 hours and 52 minutes: "well guys, it's time to go".
My daughter reached out and grabbed my hand, looked up at me and enthusiastically said "this has been the best day EVER". Mixed emotions of surprise, parental happiness and the serious need of some coffee mixed together and left me with nothing but a huge smile and a wonderful hand-in-hand walk back to the car. To this day (4 years later?), that was the only time I've ever heard that particular phrase.
Lessons Learned
(no science paper would be complete without them)
People constantly think you need to supply kids with lessons to learn. This isn't actually true: you need to supply them with lessons only when you want them to learn the lessons YOU think are important. They can happily study social interaction (soccer), communication (yelling) and physics (the terminal velocity of falling grass blades) without your direction. The trick is keeping your eyelids open while their experiments run their course.
Parents get to pick the agendas for most of a child's life. But how can children become world leaders if they don't practice leading themselves once in a while.
Looking back, it was an experiment that I'd highly recommend to anyone when interacting with kids. I learned a lot from my kids that day as I still think frequently of the day I set out to do nothing.